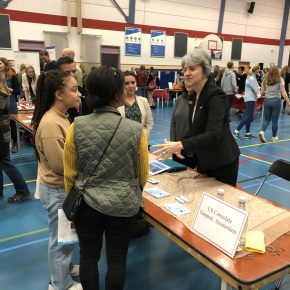 What: Amsterdam College Night (EducationUSA's college & university fair in the Netherlands)
When: Monday, September 26, 2022
Where: location to appear in due course
Amsterdam College Night is EducationUSA's college & university fair in the Netherlands, and the successor to the annual fair initiated in 2012 and organized until 2019 by Ivy Circle, Fulbright Commission/EducationUSA, the U.S. Consulate General in Amsterdam, and (host) the International School of Amsterdam in Amstelveen. During the COVID pandemic, the fair was held twice as a virtual (online) fair for the Benelux, in collaboration with partner fairs in Brussels & Luxembourg.
Amsterdam College Night is for students (and their parents) from 125+ International (Baccalaureate) and bilingual secondary schools, as well as 650+ regular secondary schools (Dutch VWO & HAVO) in the Netherlands, who want to know more about undergraduate education opportunities in the USA.
The last local fair in 2019 drew 200 students and parents from 31 secondary schools in the Netherlands as far as Emmen and Eindhoven, who came to meet admissions representatives & alumni from 35 colleges & universities! See details here, as well as photos.
PROGRAM/SCHEDULE:
Amsterdam College Night: schedule/location to appear soon
Full details, including participating colleges/universities, information sessions as well as how to register for the fair, will be available in due course on the EducationUSA Benelux website.
FOR STUDENTS/PARENTS/GUIDANCE COUNSELORS:
Admission is free. To register please go to the EducationUSA Benelux website.
FOR ADMISSIONS REPRESENTATIVES AT U.S. & CANADIAN COLLEGES/UNIVERSITIES:   
To enable you to make the most out of your European recruitment, the Amsterdam fair is part of a coordinated schedule including EducationUSA's Regional Forum in Belgrade and its fairs in London, Brussels and Luxembourg.
For more information, please contact Manon Kolsteren, Fulbright/EducationUSA